Statement of impartiality and confidentiality
The CEO of ExNB, the leader of the certification and the quality manager is officially committed to impartiality and declares:
ExNB performs its activities impartially and without discrimination.
None of the members and close relatives of ExNB can be:

the designer, manufacturer, distributor, installer, owner or maintainer of the evaluated products
it is forbidden to participate directly in the design, manufacture, assembly, distribution, commissioning or maintenance of the products and may not represent the participants in the listed activities;
it is forbidden to accept asset benefit from a person or organization interested in the result of the conformity assessment activity;
person assessed on the basis of personal competence

The ExNB Executive Officer is personally informed about the relationship between the staff to be assigned to the task and the applicant. Only a staff member is assigned to carry out the task, whose impartiality is proved. If there is a change in the relationship system of any ExNB member, it must be immediately reported to the ExNB Executive.
ExNB does not provide expert advice on technical solutions for the product submitted for certification or compliance.
ExNB makes its services available to all applicants whose activities are within the scope of the certification body.
Access to ExNB's services does not depend on the size of the client's organization, the number of certificates preiously issued, or any association membership.
All information in the possession of ExNB is treated confidentially. Prior to the disclosure of any information, the ExNB Executive Director is required to consult and ask permission from the Customer. External agents or clients present at the ExNB Certification Institute are forbidden to view the certification documentation or product samples of other customers. The rules of confidentiality management and supervision also apply to the persons appointed for inspection.
All staff are required to sign a Confidentiality and Independence Declaration that includes:
compliance with confidentiality rules;
relationship with the supplier of the product;
pre-existing and existing relationship.
Need help?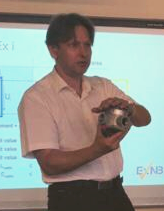 Dr. Gábor
Kun
Head of Certification
+36 20/354-2863
kun@exnb.eu