ExAM
For employees working in potentially explosive environments, in addition to basic professional knowledge, expertise in explosion safety technology, or as the standard refers to it, "personal competence," is essential. The staff must participate in continuous training and related knowledge assessments with the frequency prescribed in workplace regulations or, in their absence, in standards and legal requirements.
 The competent managers must be familiar with the requirements for working in potentially explosive environments and obtain evidence through knowledge assessments or other methods to ensure that the explosion safety knowledge of employees working in such environments or colleagues dealing with safety-related issues is up to date.
 It is important for manufacturers that anyone who has an impact on the conformity of their products is trained and competent. Although the 2014/34/EU ATEX directive does not mandate specific training requirements for them, manufacturers must ensure through documented procedures that these individuals possess the necessary knowledge and expertise.
In order to obtain an independent and impartial assessment of the knowledge of the individuals involved, training and evaluation should be conducted by an approved training and certification center based on the MSZ EN ISO/IEC 17024 standard. The ExNB Certification Institute is an institution evaluated and approved by the European Union according to the aforementioned standard. Its goal is to ensure a high level of compliance with explosion safety requirements for various roles present on-site, including installers, inspectors, responsible managers, designers, and personnel of repair workshops.
Certainly, we regularly organize trainings, workshops, and informal consultations for professionals working in various areas such as design, manufacturing, and quality assurance. These initiatives aim to enhance their knowledge, skills, and understanding of relevant topics. We believe in continuous learning and professional development to ensure excellence in every aspect of our work.
Please contact our staff! 

The ExAM certification scheme has been audited according to EN ISO/IEC 17024 and the related personal certification activities were approved by the Notfication Authorities of the European Council
Need help?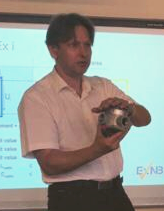 Dr. Gábor
Kun
Head of Certification
+36 20 354 2863
kun@exnb.eu