ATEX Product Certification
Compliance with health and safety requirements is essential to ensure the safety level of equipment and protection systems.
 Such requirements should be subdivided into general requirements and additional requirements that the equipment and protective systems must satisfy. In the case of additional requirements in particular, attention should be paid to existing or potential hazards. Equipment and protective systems must therefore comply with at least one of these requirements, where this is necessary for their proper functioning, or be used in their intended use.
 The concept of intended use is of primary importance for the explosion protection of equipment and protective systems.
 It is essential that manufacturers provide full information on their products. It should therefore also be necessary for such equipment and protective systems to be clearly marked with a distinctive and unambiguous marking indicating that they are intended for use in potentially explosive atmospheres.
For more information on the ATEX certification schedule, click on the links below.
Need help?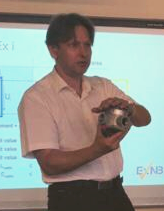 Dr. Gábor
Kun
Head of Certification
+36 20/354-2863
kun@exnb.eu