Training, consultation
In addition to basic professional knowledge, explosion safety knowledge is essential for people working in potentially explosive workplaces.
In order to acquire this knowledge, staff should regularly attend appropriate training courses and related knowledge assessments.
Only training and examinations that provide real expertise make sense. In contrast, many explosion safety training courses on the market are based on outdated textbooks and pass on knowledge that is useless in a modern technological environment.
Your professionals need useful personnel competence that is up-to-date and, last but not least, meets the relevant regulations and standards.
This is exactly what we offer!
Contact us and our colleagues will inform you about our current training courses and offer you the opportunity for an individual professional consultation.
Feel free to contact our stuff!
Click here to download and study the documents on which our training is based. We are constantly adding to our document library.
Need help?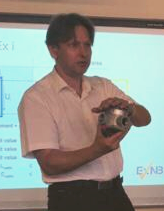 Dr. Gábor
Kun
Head of Certification
+36 20 354 2863
kun@exnb.eu