Manufacturing Process Audit
Under Directive 2014/34/EU (ATEX), in certain cases the manufacturer must have the conformity of the manufacturing process certified by an independent certification body. For explosion-proof products, this is unavoidable for category II 1 equipment or category II 2 electrical equipment. ExNB will perform the necessary checks according to the standard MSZ EN 80079-34.
Conformity to type based on quality assurance of the production process is the part of the conformity assessment procedure by which the manufacturer fulfils its obligations under Directive 2014/34/EU and thus under Regulation 35/2016 (IX.27.) NGM, and ensures and declares on its sole responsibility that the products concerned are in conformity with the type described in the EU type-examination certificate and satisfy the requirements of the Regulation that apply to them.
The purpose of surveillance under the responsibility of the notified body is to make sure that the manufacturer duly fulfils the obligations arising out of the approved quality system. This ensures that the data and parameters set out in the type-examination certificate are met and that the products satisfy the essential health and safety requirements.
Need help?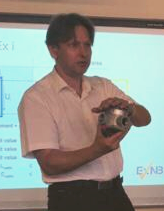 Dr. Gábor
Kun
Head of Certification
+36 20/354-2863
kun@exnb.eu