Welcome to DustLab!
The knowledge of the parameters related to materials applied in potentially explosive atmospheres is essential. Many materials are known in sufficient detail, but the explosion safety parameters of many materials are not or not fully known. The situation is further complicated if their mixture is the basis of a potentially explosive atmosphere.
DustLab provides the opportunity for a fact-based approach to potentially explosive atmospheres and if the highly flammable and explosive substances used therein, as well as for the implementation of user specification, design, operation and further assessment based on them.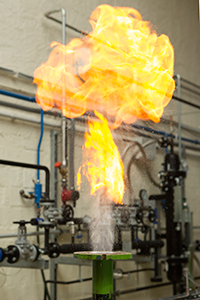 What exactly is DustLab?
A laboratory focusing on parameters on hazardous area compliance related to dust-, gas- and their mixture, where detailed theoretical knowledge and up-to-date practical experience meet. The co-operation between ExNB Certification Institute and the University of Miskolc gives the management and operation of DustLab, where we can assess and certify hazardous parameters of dust, gas particles and their mixtures.
Name
Standard
Equipment

Explosion indicators

Pmax, Kst

MSZ EN14034 - Part 1:2004, and Part 2:2006

MSZ EN 13673-1; EN 13673-2

KSEP-20

Minimum ignition temperature of powder layer

LIT

ASTM E2021, MSZ EN 50281-2-1
Chillworth CTL15

Minimum ignition temperature of dust mist

MIT

ASTM E1491, MSZ EN 50281-2-1, MSZ IEC 61241-2-1
Chillworth CTL05

Minimum ignition energy

MIE

ASTM E2019-02, MSZ EN 13821, ASTM E582,  EU Method A11, VDI 2263 Part 1 and MI 21885/24-1989
Chillworth CTL04

Lower explosion limit

LEL

ASTM E681, ASTM E918, MSZ EN 1839
KSEP-20

Explosion limiting oxygen concentration

LOC

MSZ EN 14034-4:2004
KSEP-20
Why DustLab?
We have a fleet of equipment to meet the technical and safety requirements of the modern age, so that we can determine the explosion safety technical parameters of a given dust and gas or their mixtures. The theoretical and practical experts of ExNB and the University of Miskolc can support the users with specific application technology knowledge in addition to the laboratory results and implement safe operation together.
DustLab participates in international reference measurements every year to ensure the accuracy of the measurements.
What else does DustLab offer?
The close cooperation between the ExNB and the University of Miskolc within the framework of DustLab enables it to provide its partners with access to the full portfolio and competence library of both the ExNB and the University of Miskolc. Further analyzes, measurements and related consultations are available, e.g. conductivity, microscopic or laser particle analysis, special thermal properties, explosion safety compliance, regulatory consultations, etc.
Further possible measurements
Autoignition Temperature of Solids; BAM fall hammer (impact tester); BAM friction test; Powder Resistivity Test Apparatus; Powder Chargeability Test Apparatus; Charge Decay Test
Steps of cooperation
Contact
Agree on exact technical content
Agree on technical and commercial conditions
Send the specified test quantity to DustLab
Perform the test
Prepare a test report
Send the test report to the partner
Destroy test materials (according to the contract)
More options:
Framework contract
Creation of database (s)
Education
Application technical support
Contact:
Árpád Veress
Mobil: +36 30 9660 223
Email: dustlab@exnb.eu
Web: http://www.dustlab.hu/
Need help?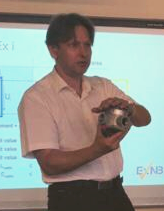 Dr. Gábor
Kun
Head of Certification
+36 20 354 2863
kun@exnb.eu