Certifications
 ATEX
Compliance with the standards that document the principles and regulations for the safe production of products and harmonize with the 2014/34/EU ATEX Directive is mandatory for all manufacturers. Failure to comply or inadequate implementation can result in enforcement procedures, potential market exclusion, product recalls, and/or legal action.
Therefore, any manufacturer who intends to produce, distribute, or put into operation category 1 products (i.e., products that can be operated in Zone 0 or Zone 20 potentially explosive atmospheres) either partially or entirely, must seek the services of a certification body for the purpose of product testing and manufacturing control. 
According to the legal regulations since 2003, electrical and non-electrical equipment operating in potentially explosive environments are required to undergo a conformity assessment procedure before being placed on the market. However, for equipment in the third category, the manufacturer carries out this assessment through internal manufacturing control. In order to achieve the necessary safety, it is always recommended to conduct individual or voluntary product control performed by an independent third party with the appropriate professional experience and competence.
Personnel Competence
In addition to basic professional knowledge, the personnel working in potentially explosive environments require essential knowledge of explosion safety, referred to as "personal competence" in the standards. The staff must undergo regular training and participate in knowledge assessments as required by workplace regulations, or in their absence, as specified by standards and regulations. This ensures that they possess the necessary expertise and competence in maintaining workplace safety in relation to explosion hazards. 
The responsible supervisors must be familiar with the requirements for working in potentially explosive environments, and they should obtain evidence, through knowledge assessments or other suitable methods, that the explosion safety knowledge of their colleagues working in such environments or those involved in safety-related matters is up to date. It is important for the supervisors to ensure that their colleagues have current knowledge in explosion protection to maintain a safe working environment.
This is what our ExAM personal competence certification scheme is all about.
Fire Safety Compliance Certificate
The Fire Protection Act of XXXI of 1996 states that any device, machinery, or equipment designed and manufactured for the production, processing, use, storage, or measurement of fire-hazardous gases, aerosols, liquids, fire-hazardous solid materials, A, B, C or D type self-reactive substances and mixtures, pyrophoric liquids, pyrophoric solid materials, oxidizing liquids or solids, as well as A, B, C or D type organic peroxides, is considered "fire- or explosion-hazardous" according to the law.
For the sale or installation of such a device or machinery, a Fire Safety Compliance Certificate (TMT) is required. If this document is missing, the market surveillance authority may impose fines and ultimately prohibit the sale or installation of the equipment.
Learn more about Fire Safety Compliance Certificate by clicking here!
Need help?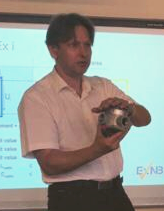 Dr. Gábor
Kun
Head of Certification
+36 20 354 2863
kun@exnb.eu