TMT menetrend
Customer asks the ExNB to prepare the Fire Protection Certificate.
Contracting.
The customer prepares documentation on the protection methods applied and the technical documentation.
ExNB checks the documents.
The customer sends or takes personally representative samples to the ExNB. In case of equipment ExNB goes the scene. 
Megtörténik a minták vagy a berendezés bevizsgálása. ExNB tests the samples or the equipment.
In case of error or non-compliance, the customer makes the repairs.
In case of compliance, ExNB issues the Fire Protection Certificate.
Need help?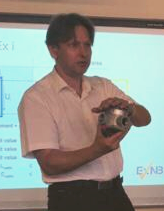 Dr. Gábor
Kun
Head of Certification
+36 20 354 2863
kun@exnb.eu